Media Center
FTC gives Harris Teeter-Kroger deal the green light
17 January 2014
Jennifer Thomas, Charlotte Business Journal
The Federal Trade Commission has given The Kroger Co.'s (NYSE:KR) acquisition of Harris Teeter Supermarkets Inc. the green light.
Kroger announced in July that it would acquire Matthews-based Harris Teeter (NYSE:HTSI) in an all-cash deal valued at $2.5 billion, including assumption of $100 million in debt.
On Friday, the FTC granted an early termination of the waiting period tied to the deal, allowing it to move forward. Both companies expect the transaction to be completed before the end of January.
Regulatory approval was the final significant step toward completing the merger, says Keith Dailey, Kroger spokesman.
The deal still remains subject to other customary closing conditions.
Harris Teeter shareholders overwhelmingly approved of the merger agreement in October. Kroger has said previously that it expected the deal to close before its fiscal year ends Feb. 1
Dailey says both Kroger and Harris Teeter look forward to closing the deal before the end of the month.
"Both companies bring unique strengths that together will make both Kroger and Harris Teeter stronger and better at serving our customers. Harris Teeter's footprint is highly complementary to Kroger's, we share a customer-centric approach to everything we do, and we believe Kroger's purchasing power will benefit Harris Teeter," he says.
Harris Teeter did not respond to a request for comment Friday evening.
Upon closing, Harris Teeter shareholders will receive $49.38 in cash for each share of common stock they own.
In a December earnings call, Kroger Chief Financial Officer J. Michael Schlotman said that Kroger anticipates meeting with Harris Teeter's management in February to discuss the grocery chain's business plan for 2014.
He noted that the deal will benefit customers, employees and shareholders.
"To say we are excited about the prospects of our companies joining together would be an understatement," he said during that call.
The grocer expects net accretion to earnings per diluted share of 6 cents to 9 cents in the first full year after the merger, excluding transition expenses.
Kroger expects to achieve annual cost savings of approximately $40 million to $50 million over the next three to four years. Much of the savings is expected to come from the benefits of Kroger's scale and synergies, such as improved purchasing power or technology upgrades.
The merger would expand Kroger's footprint, while Harris Teeter would keep its name and brands.
Plans call for continued growth of Harris Teeter, including new stores. The grocer's capital plan for fiscal 2014 includes 18 new stores. It anticipates capital expenditures of approximately $240 million.
That would increase Harris Teeter's retail square footage by 7.9 percent in fiscal 2014. That's up from 4.2 percent in fiscal 2013, which ended Oct. 1.
Cincinnati-based Kroger operates more than 2,400 supermarkets and multi-department stores in 31 states under two dozen banners that include Kroger, City Market, Dillons, Fred Meyer, Fry's, King Soopers, QFC, Ralphs and Smith's.
Kroger generated $96.8 billion in revenue in 2012.
Harris Teeter Supermarkets operates more than 225 stores in eight states and Washington, D.C. Most are in North Carolina.
It had fiscal 2013 sales of $4.71 billion. It employs approximately 26,000 people.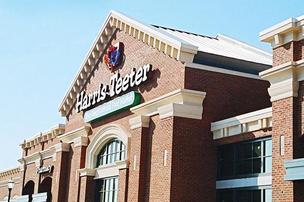 ---
Back
Add to Prospectus